University City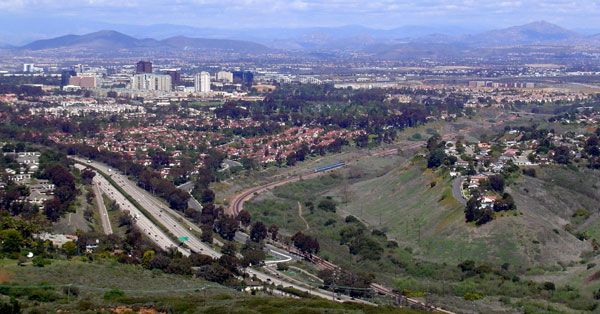 Prev
Next
University City (UC) is a community in San Diego, California, located in the northwestern portion of the city next to the University of California, San Diego.
The campus of the University of California, San Diego, from which the area derives its name, is to the west of the center of the neighborhood. Many of the professors teaching at UCSD live in the UC neighborhood.
There are two distinct parts of University City divided by Rose Canyon, featuring the Rose Canyon Open Space preserve, and railroad tracks passing through it. South of Rose Canyon lies the older part of University City, built in the 1960s and historically referred to as University Square, centered on Governor Drive.  It is a mostly residential neighborhood along Governor Drive with many single family homes. Just southwest of the Governor Drive exit from I-805 is a commercially zoned area containing office parks with low-rise buildings.  South UC was developed primarily in the 1960s and 70s.
The newer part of University City lies north of Rose Canyon; it is usually referred to as University Towne Centre (UTC). The entire area has also been nicknamed the "Golden Triangle" by commercial developers.
The topography of University City includes mesas and canyons such as Rose Canyon, San Clemente Canyon, and finger canyons that provide much of the open space. The canyons provide wildlife habitats with about 100 bird species migrating through the area plus natural views and opportunities for hiking, biking, and birding. The canyons are fire-managed and thus present small wildfire risks. In addition, motorists drive around the canyons, with I-5, Genessee Ave, and the I-805 being about 1 mile apart from each other.
University City's economy is anchored by the University of California San Diego campus which forms the north part of the community. Southern areas of University City are composed of a mix of single family homes, a retirement community, and a few condominiums. The north-central area, known as the "UTC" area is composed of a dense mix of condominiums and apartment complexes.
Besides containing three local shopping centers, there is also a large regional shopping mall referred to as UTC. This University Towne Center shopping mall is located at the southeast corner of the intersection of Genesee Avenue and La Jolla Village Drive in University City. It is anchored by Sears, Nordstrom and Macy's. The north-eastern mesas of University City started to be developed for industrial and corporate use in 1991, and are home to several biotech, computer and financial companies. The northern part of University City also contains two major hospitals, Scripps Memorial and UCSD's Thornton Hospital, with surrounding medical office buildings. North UC was developed primarily in the 1980s and 90s, and rapid growth and development continue.
Education
There are five public schools in University City:
Marie Curie Elementary School
John D. Spreckels Elementary School
Doyle Elementary School
Stanley Middle school
University City High School